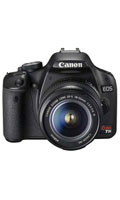 Canon EOS 500D Digital Rebel Ti1 Specifications
Type
Digital AF/AE SLR, with built-in flash
Recording Media
SD or SDHC card
Image Sensor Size
22.3 x 14.9mm
Lens Mount
Canon EF mount
Compatible Lenses
Canon EF lenses, Canon EF-S lenses
Max Resolution
4752 x 3168 pixels
Effective Pixels
15.1 million
Dimensions (W x H x D)
128.8 x 97.5 x 61.9mm (5.1 x 3.8 x 2.4")
Weight (not incl. battery)
480g (16.9oz)
Imaging-Resource.com
It's pretty clear that the Canon Rebel T1i's image quality is at least as good as the Canon 50D, delivering more detail than most of the 12-megapixel cameras on the market for less money. Noise suppression is a bigger factor, but you can also turn that noise reduction down or off completely, or shoot 14-bit RAW.
DCResource.com
Ever since the release of the original Digital Rebel in 2003, you couldn't really go wrong buying any iter of Canon's entry-level digital SLR. Not surprisingly, things haven't changed in 2009: the new EOS Rebel T1i is a very capable digital SLR that not only takes great pictures -- it can record HD videos, as well (with limitations).
PhotoZone.de
The Canon EOS 500D features a very high resolution of 15.1 mega-pixel, movie functionality including full high definition recording, as well as high ISO up to 12.800 and a big 3.0" LCD with 920.00 dots. Great specs compared to the competitors in its class. That said take this bunch of specs with a grain of salt.
KenRockwell.com
The $800 Canon Digital Rebel T1i is Canon's second best digital camera ever, right behind the $2,700 5D Mark II, which is Canon's best, regardless of price. What makes the T1i (and 5D Mark II) so good are how far improved their ergonomics are over earlier Canon DSLRs.
BobAtkins.com
Overall I think the Digital Rebel T1i is one of the best bargains in Canon's (or anyone else's) DSLR lineup. You get a high resolution sensor, ISO capabilities up to 12,800, HD video and most of the "bells and whistles" that the average photographer will ever need.
DPReview.com
If you currently own an EOS 450D or another fairly recent entry-level DSLR from an image quality point of view there is not necessarily a need to upgrade to the EOS 500D. However, the HD video mode, new high-resolution screen or extended ISO range make it easier to justify the expense if you're likely to use these features.
CameraLabs.com
The headline feature of the EOS 500D / T1i is of course its new HD movie mode. Like all DSLRs to date with video capabilities, there's a wealth of caveats that prevent it from ever being a true replacement for a camcorder (such as lack of practical autofocus and manual control), but if you're willing to work-around them and embrace the advantages, you can achieve some great results.
The-Digital-Picture.com
The small size and light weight make the Canon EOS Rebel T1i / 500D a great choice when you are carrying your DSLR significantly more than shooting with it - it is ideal for those times when portability trumps features (including a Rear Control Dial, joystick, top LCD ...), rugged build and ease of control.