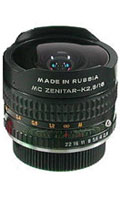 Zenitar 16mm f/2.8 Fisheye Specifications
Frame Coverage
35mm
Lens Construction (groups)
7
Lens Construction (elements)
10
No. of Diaphragm Blades
5
Minimum Aperture
22
Closest Focusing Distance
0.3m (11.8")
Maximum Magnifcation
Unknown
Filter Diameter
26.5mm (rear screw filter)
Maximum Diameter x Length
63mm x 49mm (2.5" x 1.9")
Weight
310g (10.9oz)
Ready to buy?

Ken Rockwell
If you stop this lens down to f/16 and are prepared for 1950's style manual operation on a full-frame or film camera you can get better results than I get with my Nikon 10.5mm fisheye. Used at larger apertures this Russian lens is softer, and regardless of aperture it is always a relative pain to use, with no automatic anything.
The Astroscopic Labs
The Zenitar is a great wide angle lens for CCD cameras. It should be stopped down to about f4.0 to improve the ability to reach perfect focus and to reduce aberrations and internal reflections.
Mac.tidings.nu
If you just want to experience what it is like to use a fisheye lens without emptying your bank, The Zenitar (or the even wider Peleng) is a must.
Eric Tischer
Very impressed now that this lens is dialed in. Even at f2.8, light fall off is much much better than my Tokina 19-35mm 3.5
Bob Atkins
It's a fun lens, well worth the price I paid (around $110 I think). If you're looking for a fisheye and you can find a supplier you trust, I'd say go for it!
PhotoNotes.org
I've been very satisfied with the results, flare aside. There is some chromatic aberration in the corners, but it's not too bad.