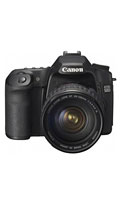 Canon EOS 50D Specifications
Type
Digital AF/AE SLR, with built-in flash
Recording Media
Type I or II CF card
Image Sensor Size
22.3 x 14.9mm
Lens Mount
Canon EF mount
Compatible Lenses
Canon EF lenses, Canon EF-S lenses
Max Resolution
4752 x 3168 pixels
Effective Pixels
15.1 million
Dimensions (W x H x D)
145.5 x 107.8 x 73.5mm (5.7 x 4.2 x 2.9")
Weight (incl. battery)
822g (29oz)
BobAtkins.com
The EOS 50D adds a number of features to those present on 40D, the most notable of which in my opinion is the microfocus adjustment ability. Given the number of complaints I see in web forums about lenses front and back focusing, this would seem to be a feature many photographers should be willing to give their right arm for, or at least if not their right arm at least a few hundred dollars!
The-Digital-Picture.com
Reducing the 50D image to the pixel dimensions of the 40D results in very similar noise levels and the 50D retains better sharpness and details. The Canon EOS 50D has two small RAW image format options (sRAW1 and sRAW2) available (reduced size JPEGs are of course available). With no noise reduction applied, shooting in the 3267 x 2178 sRAW1 format results in much less visible noise.
Imaging-Resource.com
The story, though, is in the Canon 50D's standard ISO range. Images from ISO 100 to 3,200 are quite usable at a wide range of sizes. I was happy with printed ISO 800 shots up to 13x19, and shots even at 3,200 produce good quality 8x10-inch prints. That's what Canon intermediate fans rely on: JPEG and RAW images that they can believe in, time after time.
DPReview.com
Looking at the specification differences between the EOS 40D and our test candidate it appears you pay quite a premium for the 50D's extra megapixels and as we've found out during this review you don't get an awful lot of extra image quality for your money. The Canon EOS 50D still earns itself our highest reward but considering its price point and our slight concerns about its pixel-packed sensor, it only does so by a whisker.
CameraLabs.com
The Canon EOS 50D is a feature-packed semi-pro DSLR which takes the already capable 40D, increases the pixel count by 50%, quadruples the sensitivity and packs in all the latest features – bar a movie mode. As such it's a very impressive specification, and one which on the whole lives up to its promise.
Roland Lim
Auto ISO on the 50D is improved over the 40D and more versatile. In most of the shooting mode, auto ISO would set ISO between 100-1600. I have tried it out for short time and it seemed to work quite well, changing ISO from 100 to 1600 depending on ambient light level.