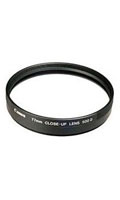 Canon 500D Close-up Lens Specifications
Diopter Strength
+2
Filter Diameter
52mm, 58mm, 72mm, 77mm
Review Summary
The Canon 500D Close-up Lens is a high quality two element filter attachment that provides a convenient and relatively inexpensive way to make close-up and macro photographs using a telephoto zoom lens.
ImagePower.de
And what about the quality? Believe it or not, it's amazingly sharp! Of course corners are soft wide open at 400mm, but stopping down two stops (which is advisable in close-up photography anyway) will reward you with both high resolution and contrast.
CameraHobby.com
Using the 500D alone with the 70-200 lens provides very nice results and although the 500D with the 2x TC provides greater than 1:1 magnification the results indicate that focusing is very critical due to the extremely shallow depth of field available with a 400mm f5.6 lens.
No Cropping Zone
The 500D is designed to correct for chromatic aberration and it helps to keep the image circle sharp and, unlike an extension tube, there is no loss of light. The magnification that I get with the diopter [on the 100mm macro] is almost the same as a 25mm extension tube (1.375x for the 500D verses 1.39x for the 25mm tube).
The-Digital-Picture.com
The Canon 500D Close-up Lens is a small double-element lens that threads onto the filter threads on a standard (non-macro) lens. It allows that lens to be focused at a much closer distance- resulting in a higher magnification of the subject. The Canon 500D Close-up Lens is intended to be used on lenses with a focal length of 70mm-300mm.