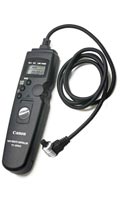 Canon TC-80N3 Timer Remote Control Specifications
Self Timer
1 sec. to 99 hours, 59 minutes, and 59 sec. (in 1 sec. intervals)
Interval Timer
1 sec. to 99 hours, 59 minutes, and 59 sec. (in 1 sec. intervals)
Long Exposure Timer
1 sec. to 99 hours, 59 minutes, and 59 sec. (in 1 sec. intervals)
Exposure Count
1-99
Cord Length
.8m (31.5")
Dimensions (W x H x D)
40 x 20 x 133mm (1.6 x .8 x 5.6")
Weight (incl. battery)
85g (3oz)
Photoethnography.com
The TC's advantage is that it's more than just a timer. It has three timers (and one counter) in it, each which can be set independently or in combination.
Luminous-Landscape.com
During a meteor shower you might want to set the camera up with a TC-80N3 set so that a new 5 minute-long exposure is taken every 15 minutes for the next 4 hours. The possibilities are endless.