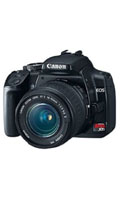 Canon EOS 400D Digital Rebel XTi Specifications
Type
Digital AF/AE SLR, with built-in flash
Recording Media
Type I or II CF card
Image Sensor Size
22.2 x 14.8mm
Lens Mount
Canon EF mount
Compatible Lenses
Canon EF lenses, Canon EF-S lenses
Max Resolution
3888 x 2592 pixels
Effective Pixels
10.1 million
Dimensions (W x H x D)
127 x 94 x 65mm (5.0 x 3.7 x 2.5")
Weight (incl. battery)
556g (19.6oz)
Ready to buy?

CameraLabs.com
Ultimately the Canon EOS 400D / Rebel XTi is a great entry-level digital SLR which improves on its predecessor in many respects. It has higher resolution without compromising noise levels, a wide variety of anti-dust features, a bigger screen which doubles-up for detailed shooting information, the AF system of its bigger brother and fast overall handling.
The-Digital-Picture.com
If you want a big step up in capabilities from a prosumer point & shoot camera, the 400D/Rebel XTi will be an excellent choice. This may be the right time for original Canon 300D Digital Rebel users to make a jump as well - The Canon EOS 400D Digital Rebel XTi's features and image quality improvements are definitely significant enough to justify this upgrade.