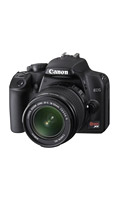 Canon EOS 1000D Digital Rebel XS Specifications
Type
Digital AF/AE SLR, with built-in flash
Recording Media
SD or SDHC card
Image Sensor Size
22.2 x 14.8mm
Lens Mount
Canon EF mount
Compatible Lenses
Canon EF lenses, Canon EF-S lenses
Max Resolution
388 x 2592 pixels
Effective Pixels
10.1 million
Dimensions (W x H x D)
126 x 98 x 62mm (5.0 x 3.9 x 2.4")
Weight (incl. battery)
502g (17.7oz)
The-Digital-Picture.com
Even though the Rebel XS is clearly an entry-level DSLR body, most point and shoot users will be very impressed with the image quality and performance the XS upgrade will bring them. The affordable price point of the Canon EOS Rebel XS / 1000D will give it a lot of popularity.
Imaging-Resource.com
The Canon Rebel XS is a good quality digital SLR camera, well-suited to the consumer shooter looking for a little more from a digital camera. Canon sought to compete with Nikon and Pentax at the extreme low price level, and they had to cut a few corners. The body isn't quite as nice as the Canon Rebel XSi, and the image quality suffers from a few more hitches, but you'll only notice if you zoom to 100 percent onscreen and search around like we do.
DPReview.com
Having helped create the 'affordable' DSLR, Canon has taken a while to respond to the latest, comparatively wallet-friendly offerings from the likes of Nikon and Sony. The 1000D is a pretty convincing response - it does just about everything it needs to do, and everything it does, it does well. It can produce great images at any of its ISO settings and, viewed as a whole, makes a great first DSLR.