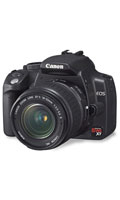 Canon EOS 350D Digital Rebel XT Specifications
Type
Digital AF/AE SLR with built-in flash
Recording Media
Type I or II CF card
Image Sensor Size
22.2 x 14.8mm
Lens Mount
Canon EF mount
Compatible Lenses
Canon EF lenses, Canon EF-S lenses
Max Resolution
3456 x 2304 pixels
Effective Pixels
8 million
Dimensions (W x H x D)
126.5 x 94.2 x 64mm (5.0 x 3.7 x 2.5")
Weight (incl. battery)
540g (19oz)
Ken Rockwell
This Rebel XT is a great, lightweight little 8MP DSLR with the usual 1.6x lens factor. It has exemplary image quality. By exemplary image quality I mean forget the resolution and noise details and just make some photos.
TopicPoint.com
The Canon 350D is a great digital SLR for certain people. Its compact size, light weight, speed, responsiveness, and excellent image quality make it a nearly ideal entry-level digital SLR and travel camera.
The-Digital-Picture.com
From fully automatic P&S (Point & Shoot) to fully manual control along with many modes between (including black & white), the Canon EOS 350D Digital Rebel XT offers something to both newbies and pros.