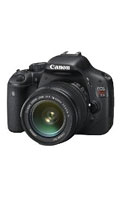 Canon EOS 550D Digital Rebel T2i Specifications
Type
Digital AF/AE SLR, with built-in flash
Recording Media
SD or SDHC card
Image Sensor Size
22.3 x 14.9mm
Lens Mount
Canon EF mount
Compatible Lenses
Canon EF lenses, Canon EF-S lenses
Max Resolution
5184 x 3456 pixels
Effective Pixels
18 million
Dimensions (W x H x D)
128.8 x 97.5 x 75.3mm (5.1 x 3.8 x 3")
Weight (incl. battery and card)
530g (18.7oz)
BobAtkins.com
The Canon EOS Digital Rebel T2i (EOS 550D) continues to push the Digital Rebel series out of the "beginner" category and into the territory previously held by more expensive models such as the EOS 50D and EOS 7D. In fact I'd say that from most viewpoints it's actually a more advanced camera then the EOS 50D and it provides maybe 75% of the capabilities of the EOS 7D for about 1/2 the price!
DPReview.com
The 550D can be relied upon in almost any environment to deliver pleasant, well-exposed images, and although it obviously can't match the likes of the EOS 1D Mark IV or the Nikon D3S at its highest ISO setting of 12800, it is measurably better than its predecessor the EOS 500D, despite a hike in resolution.
PhotoRadar.com
The 550D's kit lens and JPEG processing don't make the most of its 18 million pixels, and an articulating LCD and fast Live View focusing would improve it still further. Nevertheless, this is clearly Canon's best consumer DSLR yet.
CameraLabs.com
Canon's EOS 550D / Rebel T2i continues the company's tradition of filtering-down features from a higher-end model into a more affordable body. As such, the 550D / T2i enjoys the same high resolution photos and flexible movie modes of the 7D, not to mention its sophisticated metering system, and there's even a brand new 3:2 shaped screen which is a perfect fit for stills in playback or Live View.
CameraTown.com
If the main reason you were considering the EOS 7D was for the great video capabilities of the camera and not for the photographic features, then I would definitely recommend that you to consider the Rebel T2i as an alternative. The extra $900 spent on the 7D will not give you any real noticeable benefit with regard to video quality, at least at the ISO settings you're likely to use (up to ISO 1600).