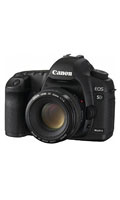 Canon EOS 5D Mark II Specifications
Type
Digital AF/AE SLR
Recording Media
Type I or II CF card
Image Sensor Size
36 x 24mm
Lens Mount
Canon EF mount
Compatible Lenses
Canon EF lenses
Max Resolution
5616 x 3744 pixels
Effective Pixels
21.1 million
Dimensions (W x H x D)
152 x 113.5 x 75mm (6.0 x 4.5 x 3.0")
Weight (incl. battery)
850g (30 oz)
Luminous-Landscape.com
While the 5D2 is not the holy grail, it is a defining camera. While it is not the camera to end cameras, nor even necessarily the best camera in its own class, the limitations of photography have been pushed back once more, to limits we probably could not have imagined a mere decade or two ago.
Photo.net
The Canon EOS 5D MkII is a remarkably capable camera with excellent imaging capability, including the ability to shoot broadcast quality HD video and record sound in stereo. It represents an advance in features over the original EOS 5D and the overall image quality is generally higher—though that higher quality may only be revealed in large prints.
DPReview.com
Canon hasn't just taken the 5D Mark I and put a new sensor in it. There are many little improvements that make this camera more than just an updated EOS 5D. There is the new menu system, the implementation of Live View, the sensor shake anti-dust system, the larger and higher resolution screen, a higher capacity battery, and extra customizability.
BobAtkins.com
The new EOS 5D MkII would be an excellent choice for serious landscape and portrait photographers and anyone who needs a full frame camera for both the quality of the images and the capability to fully utilize lenses such as the full frame 15mm fisheye and ultra-wides like the 16-35/2.8L (which loose their wide view when used on crop sensor cameras).
The-Digital-Picture.com
The 5D II delivers excellent image quality from a solid-performing body. It is a great body for beginning photographers with big aspirations. It is a great upgrade to all owners of non-1-Series bodies - and even some 1-Series body owners are going to want one. I enthusiastically recommend the Canon EOS 5D Mark II.
Imaging-Resource.com
We kept running out of superlatives to describe the Canon 5D Mark II's printed output: These are some of the cleanest, highest-quality images we've seen yet from a digital camera. In-camera JPEGs are a little soft looking, due in part to conservative in-camera sharpening, but likely also in part to noise-reduction processing, even at low ISO settings.
ArtByPhil.com
The original 5D was no slouch for the price and the new 5D Mark II is an upgrade in pretty much every possible way AND for $600 cheaper than the original. Do I have issues with the camera? Yes. However, I am extremely realistic about these magic picture taking boxes and utilize them as tools. I really don't favor a brand in any way shape or form, but I admit I am indeed a Canon shooter.
Oter.net
Compared to the EOS 350D, the 5DmkmII high ISO rocks. My current camera has 1600 as its highest setting; the EOS 5D mark II goes all the way to 25600. More importantly: In my opinion ISO 6400 on this camera is equal to or better than ISO 1600 on the 350D. The noise of the 350D at ISO 1600 is not as bad as the 5DmkII's ISO 12800, but the 5DmkII maintains color much better when you increase ISO.
Ken Rockwell
To quote Canon, "The EOS 5D Mark II achieves the highest level of image quality of any EOS Digital SLR released to date." The 5D Mark II has such excruciatingly high resolution that you will need extraordinary lenses to use this to its fullest. Canon's pro fixed f/2.8 super teles are great, but the state-of-the-art in Canon wide zooms isn't there yet.