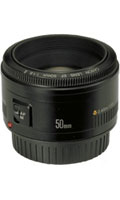 Canon EF 50mm f/1.8 II Specifications
Frame Coverage
35mm
Lens Construction (groups)
5
Lens Construction (elements)
6
No. of Diaphragm Blades
5
Minimum Aperture
22
Closest Focusing Distance
0.45m (17.7")
Maximum Magnifcation
0.15x
Filter Diameter
52mm
Maximum Diameter x Length
68.2mm x 41mm (2.7" x 1.6")
Weight
130g (4.6oz)
KenRockwell.com
The Canon 50mm f/1.8 II has fantastically good optics, better than Canon's "L" series wide lenses like the 16-35mm f/2.8 L II. In fact, this $99 plastic lens gives sharper results than the 50mm f/1.4 USM I've used, especially in no light. he f/1.4 is soft at f/1.4, and worse, I rarely get in-focus results with it, while this $99 f/1.8 lens is sharp at f/1.8, and always delivers perfect in-focus results!
DPReview.com
The Canon EF 50mm F1.8 II may be one of the cheapest lenses currently on the market, but its optics belie its lowly price. As befits a classic standard prime lens, it's very sharp when stopped down (especially in the centre), shows minimal chromatic aberration, and has relatively low distortion; APS-C users will also benefit from extremely low vignetting.
Peter Kun Frary
The EF 50 1.4 USM is the low light specialist, the EF 50 1.8 is the general purpose optic and the EF 50 2.5 Compact Macro is optimized for close-up work. However, build quality and AF speed are similar between the lenses.
Photo.net
It only costs about $80. It is incredibly lightweight. It takes vastly better pictures than a mid-range mid-priced zoom. It can take a photo without flash in light that is one quarter as bright as the light required by a consumer zoom.
The-Digital-Picture.com
The Canon EF 50mm f/1.8 II Lens is about as cheap as you can get a lens for - and this is a good lens. It is very sharp, tiny and light - possibly the lightest lens Canon makes. And with an f1.8 aperture, this Canon 50 is quite fast.
Bob Atkins
Given its low price, small size and light weight, the Canon EF 50/1.8 II is a lens you should always have in your camera bag for those times when you need a fast lens or you want to isolate a subject by having a blurred background and small depth of field.
OrdinaryLight.com
Because of its light weight, small size, and excellent sharpness this lens always has a place in my camera bag.