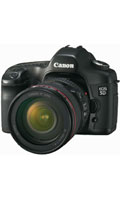 Canon EOS 5D Specifications
Type
Digital AF/AE SLR
Recording Media
Type I or II CF card
Image Sensor Size
35.8 x 23.9mm
Lens Mount
Canon EF mount
Compatible Lenses
Canon EF lenses
Max Resolution
4368 x 2912 pixels
Effective Pixels
12.8 million
Dimensions (W x H x D)
152 x 113 x 75mm (6.0 x 4.4 x 3.0")
Weight (incl. battery)
895g (31.6 oz)
GDanMitchell.com
Because the 5D is now about three years old (about a century and a half in digital camera years, or so it seems…) it lacks some of the features found on newer models from Canon and Nikon, including dust reduction systems, extra large displays, faster burst mode, and so forth. In the context of the DSLR world, today it seems like a highly competent but somewhat basic camera - which is not necessarily a bad thing.
TheCleverest.com
In extreme photographic situations requiring low-light shooting, subject tracking, narrow depth-of-field, and fast shutter speeds, the 5D will surely best the G9. But for situations where you simply need to capture a moment, the G9 is a very impressive option - especially if you've been spoiled by the amazing images the 5D produces.
PhotoNotes.org
In my experience the 5D produces quite smooth, film-like images, completely grain-free. At ISO 100 to 200 there's almost no noise. In fact, until the introduction of the EOS 1D mark III in 2007, the 5D had the lowest noise levels of probably any commercial digital camera.
Ken Rockwell
From what few thousand shots I've made so far, image quality is spectacular. I have my usual gripes about Canon's user interface compared to my Nikons, but looking at the images the 5D gives the highest quality images of any digital camera I've used under $5,000.
Peter Kun Frary
The EOS 5D is a powerful and decisive picture taking machine with few faults: refined ergonomics, beefy construction, photographic flexibility and stunning high resolution images. It is almost everything a landscape, travel, studio or wedding pro could want.
CameraLabs.com
By matching 35mm for both coverage and (to all intents) quality, the EOS 5D is the digital camera many photographers have been waiting for and comes very highly recommended.
Digital Outback Photo
We leave the detail analysis to other people but think that in reality these 2 cameras are pretty close in terms of absolute resolution. Add the noise performance of the 5D (see below) and you have a $3300 camera challenging a camera that costs more than $7000 (1Ds II).
Bob Atkins
At around $3000, the Canon EOS 5D is currently the lowest cost full 35mm frame DSLR available. In fact it's the lowest price full frame DSLR that ever has been available.
Luminous-Landscape.com
The Canon 5D is an immensely satisfying camera. In a physical size, weight and form factor it is little different than the mainstream of 5 – 8 Megapixel APS sized cameras. But Canon has, with the 5D, provided photographers with a full-frame 35mm of sufficient resolution.
DPReview.com
The EOS 5D is a fantastic photographic tool which is capable of producing really excellent results. The caveat is that it takes a little more care and understanding of your equipment (especially lenses).