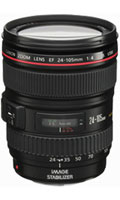 Canon EF 24-105mm f/4 L IS USM Specifications
Frame Coverage
35mm
Lens Construction (groups)
13
Lens Construction (elements)
18
No. of Diaphragm Blades
8
Minimum Aperture
22
Closest Focusing Distance
0.45m (17.7")
Maximum Magnifcation
0.23x
Filter Diameter
77mm
Maximum Diameter x Length
83.5mm x 107mm (3.3" x 4.2")
Weight
670g (23.6oz)
PhotoZone.de
The Canon EF 24-105mm f/4 USM L IS is surely one of the better standard zoom lenses for full format EOS DSLRs but it's not perfect within this scope nonetheless. The resolution figures are generally very decent except for a pronounced border softness at 70mm @ f/4. Neither distortions nor vignetting are something to rave about at 24mm although these are no real issue at other focal lengths.
Bob Atkins
The EF 24-105/4L IS USM is a very nice lens indeed. On a full frame DSLR like the EOS 5D, it has an ideal focal length range for a single general purpose lens, with applications ranging from landscapes to portraits. It can be used wide open at f4 and still yield very sharp images and with the 3 stops of stabilization which the IS system provides, it's useful for low light work as well.
Ken Rockwell
The Canon 24-105mm f/4L has great optics and works extremely well. My biggest whine is that the zoom ring takes a lot of effort and that the wide end of the zoom range is cramped, making it difficult to set wide focal lengths precisely.
CameraLabs.com
The lens performed well across its range, particularly in terms of corner sharpness at wide angle, while essentially matching our EF 85mm f1.8 prime in terms of resolving power.
William Castleman
The two expensive L-zoom lenses predictably outperformed the consumer quality EF 28-135mm lens on many tests. However, the differences in image quality that end up being visible in a print are surprisingly small.
Peter Kun Frary
Highly recommended for serious amateurs, doctors, lawyers and world trekkers. Not recommended for those wishing to travel light, sports photographers or those with a feeble credit card limit.
The-Digital-Picture.com
Boasting the superb build, mechanical and optical quality of the Canon L-Series Lenses and a widely used range of focal lengths, the Canon EF 24-105mm f/4 L IS USM Lens is one of the best and most popular Canon general purpose lenses made.
Luminous-Landscape.com
For the past year I have been using the 28-135 IS USM because it is relatively inexpensive, portable, has good zoom range and is an eminently decent quality lens. Along came the 24-105 offering portability (only a wee bit heavier than the 28-135), good zoom range and top quality at three times the price.
Luminous-Landscape.com
The 24-105 has definitely taken its place in my bag, replacing the 24-70 as my general purpose medium focal length zoom.