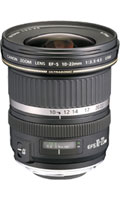 Canon EF-S 10-22mm f/3.5-4.5 USM Specifications
Frame Coverage
APS-C
Lens Construction (groups)
10
Lens Construction (elements)
13
No. of Diaphragm Blades
6
Minimum Aperture
22-27 (22-29 in 1/3 stop increments)
Closest Focusing Distance
0.24m (9.5")
Maximum Magnifcation
0.17x
Filter Diameter
77mm
Maximum Diameter x Length
83.5mm x 89.8mm (3.3" x 3.5")
Weight
385g (13.6oz)
Review Summary
The Canon 10-22mm is the best wideangle zoom available for Canon APS-C digital SLRs. If the price seems a bit steep the
Sigma 10-20
,
Tamron 11-18mm
, and
Tokina 12-24
are worthwhile alternatives.
PhotoZone.de
The Canon EF-S 10-22mm f/3.5-4.5 USM is a very sound package thanks to a combination of very decent build quality and very good if not impressive optical results. The resolution is very high at 10mm and 14mm and still pretty good at 22mm. If anything vignetting at wide-open aperture could be better. The center performance is excellent throughout the range with generally good borders.
CameraLabs.com
In practice the Canon EF-S 10-22mm performs very well, especially considering its extreme coverage. In terms of resolution it matched or out-performed the EF-S 17-85mm and EF-S 18-55mm lenses, and was only just beaten by the premium EF-S 17-55mm model. Corner sharpness was also good with softness only visible when zoomed-out with larger apertures.
Photodo.com
As a new lens designed from the ground upwards for cropped digital sensors, our expectations were fairly high and we were not disappointed.
Ken Rockwell
This is a great lens. It's so great it makes me want to swap over to Canon from Nikon, because it's better than my favorite Nikon 12 - 24 mm lens.
The-Digital-Picture.com
I must say that I am very impressed by the lack of barrel and pincushion distortion in the Canon EF-S 10-22mm f/3.5-4.5 USM Lens. It is not perfect, but very good for this extreme wide angle focal length range.
Luminous-Landscape.com
This lens is capable of producing some very fine results in terms of prints. I wouldn't hesitate to use the Canon 10-22mm for any professional application.