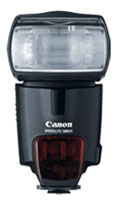 Canon Speedlite 580EX flash Specifications
Guide No.
190' (58 m) @ 105mm
Vari-Power
1/128th - Full (in 1/3-stop increments)
TTL
E-TTL II
Head Movement
Bounce / Swivel
Zoom Head
24 - 105mm, plus 14mm built-in panel
Recycle Time (full power)
6 Seconds (alkaline batteries, normal mode) / 3 Seconds (alkaline batteries, rapid mode)
Dimensions (W x H x D)
75 x 134 x 114mm (3 x 5.3 x 4.5")
Weight (not incl. batteries)
375g (13.2oz)
Ready to buy?

The-Digital-Picture.com
The Canon Speedlite 580EX Flash is the finest general purpose flash Canon currently makes and my first choice for Canon flash photography. It delivers slightly improved performance in a much improved package [over the 550EX Flash].