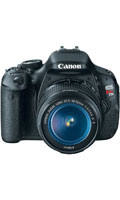 Canon EOS 600D Digital Rebel T3i Specifications
Type
Digital AF/AE SLR, with built-in flash
Recording Media
SD/SDHC/SDXC card
Image Sensor Size
22.3 x 14.9mm
Lens Mount
Canon EF mount
Compatible Lenses
Canon EF lenses, Canon EF-S lenses
Max Resolution
5184 x 3456 pixels
Effective Pixels
18 million
Dimensions (W x H x D)
133.1 x 99.5 x 79.7mm (5.9 x 3.2 x 3.1")
Weight (incl. battery and card)
530g (18.7oz)
DPReview.com
The Rebel T3i / 600D is exactly the camera that we'd expect it to be - it's feature-rich, reasonably priced, enjoyable to use and, most importantly, takes great pictures. It's not a particularly innovative camera but it is a generally well planned one.
PhotoRadar.com
Another significant addition is the Wireless Flash option, which allows the camera's pop-up flash to be used as the master for other Speedlite flashguns. While the subject of flash can be mysterious to beginners, Canon has gone to the trouble of including an EasyWireless flash mode to help simplify flash for new users, and has broken everything down step-by-step in the accompanying user manual.
The-Digital-Picture.com
For someone buying their first DSLR or upgrading from a couple of models back, the Vari-Angle LCD and built-in flash controller make the T3i worth paying the premium over the T2i in my opinion. The Canon EOS Rebel T3i / 600D is a great choice for someone moving up to a DSLR from a smaller, less-capable camera and a great upgrade for anyone shooting with a two or more-generation old Canon EOS Rebel.
CameraLabs.com
The EOS 600D / T3i is actually more than an EOS 550D / T2i with an articulated screen and wireless flash control. It inherits a number of small but useful features from the EOS 60D, including manual control over audio levels in movies, creative effects in playback and multiple aspect ratios in Live View.