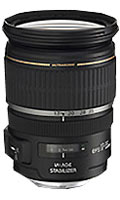 Canon EF-S 17-85mm f/2.8 IS USM Specifications
Frame Coverage
APS-C
Lens Construction (groups)
12
Lens Construction (elements)
19
No. of Diaphragm Blades
7
Minimum Aperture
22
Closest Focusing Distance
0.35m (13.8")
Maximum Magnifcation
0.17x
Filter Diameter
77mm
Maximum Diameter x Length
83.5mm x 110.6mm (3.3" x 4.4")
Weight
645g (22.8oz)
Review Summary
The Canon 17-55m IS has the performance and image stabilization to deliver the goods but the high price will have many APS-C owners looking elsewhere for their standard zoom. The
Tamron 17-50
, and
Sigma 18-50mm
match the f/2.8 aperture. If you prefer IS then the
Canon 17-85mm IS
or
Canon 18-55 IS
could be the lens for you.
PhotoZone.de
The Canon EF-S 17-55mm f/2.8 USM IS is not a perfect lens but it lives quite well up to the very high expectations of the user base. The resolution figures are among the very best for an APS-C standard zoom lens. The center resolution is generally excellent even on the EOS 50D and the borders can keep a very good quality level.
Peter Kun Frary
Although bulky I find the EF-S 17-55 2.8 IS USM a perfect travel lens for my 20D. I love the range, aperture, AF speed and sharpness of this lens. The combination of IS and a fast F2.8 aperture make it ideal for available light shooting on city streets, casinos, museums and most building interiors. Shooting at night without flash, I rarely need to dial past ISO 400. I feel confident to shoot wide open in any situation and bring back sharp images.
Ken Rockwell
If you're a full-time pro and use this all day, every day, of course it's worth it. If you're a student for whom cash is tight, then no, it's absolutely not worth it. You'll make the same images with the 18-55mm II kit lens, and have enough cash left over to go on some great trips to make photos you otherwise wouldn't. For you, the less expensive lens will make much better images.
CameraLabs.com
Canon's highest-end EF-S lens so far may not meet L standards, in terms of build quality anyway, but it'll be welcomed by EF-S body owners who are into portraiture or low light work. Since we believe the EF-S 17-85mm represents a more flexible and better value option for general-purpose photographers though we can only award the EF-S 17-55mm a Recommended classification overall, but if you're a specialist portrait or low light photographer with a Canon EF-S body, it comes Highly Recommended.
The-Digital-Picture.com
With the introduction of the Canon EF-S 17-55mm f/2.8 IS USM Lens, Canon displays its commitment to the EF-S line of lenses. With the huge base of Canon EF-S Digital SLR users, the Canon EF-S 17-55mm f/2.8 IS USM Lens, with its excellent features, specs and image quality, will find a home in many professional and amateur photographers' kits.