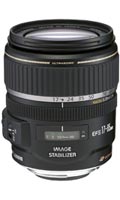 Canon EF-S 17-85mm f/4-5.6 IS USM Specifications
Frame Coverage
APS-C
Lens Construction (groups)
12
Lens Construction (elements)
17
No. of Diaphragm Blades
6
Minimum Aperture
22-32
Closest Focusing Distance
0.35m (13.8")
Maximum Magnifcation
0.20x
Filter Diameter
67mm
Maximum Diameter x Length
78.5mm x 92mm (3.1" x 3.6")
Weight
475g (16.8oz)
PhotoZone.de
The Canon EF-S 17-85mm f/4-5.6 USM IS is a lens that promises many things. It is certainly a very versatile standard zoom with a long zoom range and an image stabilizer that can save the day in many situations. However, the build quality is somewhat disappointing and optically it is also something of a mixed bag.
DPReview.com
The 17-85 gives what can only be described as mixed results in our studio tests. Its performance is rather disappointing at wideangle, where it serves up a witch's brew of corner softness, green/magenta chromatic aberration, barrel distortion and light falloff; however it becomes very much better at telephoto, and in the 35-70mm range is really very good indeed.
Albert Yu
EF-S 17-85 f/4-5.6 IS USM is a good 5X zoom that produces very sharp images when viewed whole on high-resolution monitors, HDTVs, or 8X10" (203X254mm) enlargements without much need for post processing. It's nice to have 17-24mm wide-angle coverage when foot zooming is not possible; however, images from this range can get a little soft when viewed at 100% with noticeable amount of barrel distortion and chromatic aberration - shortcomings that can easily be corrected during RAW processing.
Ken Rockwell
It's precisely made of good, sold plastic. It's made to tight tolerances and there is very little mechanical play. It's a handy lens for walking around. It has instantaneous focus, great image stabilization, and gives sharp images. It feels like the precise, quality product it is.
CameraLabs.com
It's far from perfect, but remains one of the best general purpose lenses for owners of EF-S compatible bodies, and as such comes recommended.
The-Digital-Picture.com
With its wide 5x zoom range, the 17-85 makes a great walk-around lens. There is a huge range of subject matter that fits nicely in this focal length range. And in addition to being relatively small and light, the 17-85's image quality is quite good.