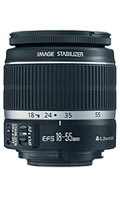 Canon EF-S 18-55mm f/3.5-5.6 IS Specifications
Frame Coverage
APS-C
Lens Construction (groups)
9
Lens Construction (elements)
11
No. of Diaphragm Blades
6
Minimum Aperture
22-36
Closest Focusing Distance
0.25m (9.8")
Maximum Magnifcation
0.3x
Filter Diameter
58mm
Maximum Diameter x Length
68.5mm x 66mm (2.7" x 2.6")
Weight
200g (7.1oz)
Review Summary
The popular
EF-S 18-55mm
kit lens has been updated with IS and improved optics making it an excellent choice for an inexpensive, light weight lens for general use or travel on APS-C DSLRs. If you prefer a zoom with a faster max aperture over IS then consider the
Tamron 17-50
.
PhotoZone.de
The resolution capabilities of the Canon EF-S 18-55mm f/3.5-5.6 IS is amazing even based on the EOS 50D. The lens resolution may no longer reach the limits of the sensor resolution (as it did on the EOS 350D) but the quality level remains very high throughout the zoom range. Even more surprising is the evenly high corner to corner performance.
CNet.com
For the entry-level Canon shooter, the EF-S 18-55mm IS f3.5-5.6 IS provides an affordable way to gain image stabilization, which is built into the bodies of entry-level dSLR systems from companies such as Sony, Pentax, and Olympus. Its strong image quality makes it a good option for more advanced Canon shooters who desire image stabilization at an affordable price.
DPReview.com
The image-stabilised 18-55mm gives a good account of itself in our tests, and is clearly much improved over the old kit lens which we've grown to know and not quite love over the last few years. It distinctly outperforms the more expensive 17-85mm at wide angle, and matches it over most of the rest of its range; however this is tempered by a slightly disappointing performance at telephoto.
The-Digital-Picture.com
For the money, the Canon EF-S 18-55mm f/3.5-5.6 IS Lens performs very well optically. From 18mm through 35mm or so, center sharpness is reasonable wide open and reaches its optimal sharpness at f/5.6. Corners in this focal length range are relatively sharp. Wide open center-of-the-lens performance remains similar throughout the focal length range until the long end where this lens becomes soft.
SLRGear.com
However they've done it, the 18-55mm ƒ/3.5-5.6 IS shows excellent sharpness at 18mm wide-open at ƒ/3.5, a focal length/aperture combination which typically shows off the weakness of most consumer-grade lenses. Image sharpness is essentially even across the frame, and doesn't exceed 2 units on our scale of 1-12. For a lens of this price point, this is amazing performance.