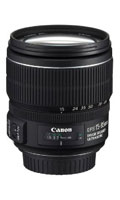 Canon EF-S 15-85mm f/3.5-5.6 IS USM Specifications
Frame Coverage
APS-C
Lens Construction (groups)
12
Lens Construction (elements)
17
No. of Diaphragm Blades
6
Minimum Aperture
22-32
Closest Focusing Distance
0.35m (13.8")
Maximum Magnifcation
0.20x
Filter Diameter
72mm
Maximum Diameter x Length
81.6mm x 87.5mm (3.2" x 3.4")
Weight
575g (20.3oz)
BobAtkins.com
The Canon EF-S 15-85/3.5-5.6 IS USM is measurably an improvement over the Canon EF-S 17-85mm f/4-5.6 IS USM, which it replaces. The image quality has been improved via the use of two additional aspheric elements and one UD element. This improvement is most noticeable at the edges and corners of the image at wide angle settings, where the image is sharper and shows lower levels of chromatic aberration.
CameraLabs.com
The EF-S 15-85mm IS USM is arguably Canon's best all-round general-purpose zoom for its range of cropped-frame EOS bodies. It delivers a compelling focal range with decent optical quality, quick and quiet focusing and Image Stabilisation. Don't get us wrong, it's not perfect. Vignetting is its biggest optical issue, with visible darkening in the corners of uncorrected images at larger apertures.
PhotoZone.de
The Canon EF-S 15-85mm f/3.5-5.6 USM IS is certainly a desirable lens ... if you can get a good one (ours had a bit of QC issue). The resolution is generally very good from 15-50mm whereas you should expect some border softness at 85mm. A weak spot of the lens is the amount of vignetting which is extreme at 15mm @ f/3.5.
SLRGear.com
The new 15-85mm is definitely an improvement over the 17-85mm, offering sharper results at every focal length as well as distinct improvements with regard to chromatic aberration, corner shading and distortion. As well, you get 2mm wider, and a half-stop faster at the wide end.
The-Digital-Picture.com
The Canon EF-S 15-85mm f/3.5-5.6 IS USM Lens delivers top-tier image quality over an excellent general purpose focal length range in a nicely-sized/weighted/built body with great AF and an excellent implementation of Image Stabilization at a for-what-you-get great price. I'm impressed.