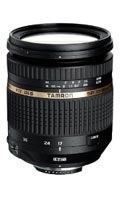 Tamron 17-50mm f/2.8 Di II VC Specifications
Frame Coverage
APS-C
Lens Construction (groups)
14
Lens Construction (elements)
19
No. of Diaphragm Blades
7
Minimum Aperture
32
Closest Focusing Distance
0.29m (11.4")
Maximum Magnifcation
.21x
Filter Diameter
72mm
Maximum Diameter x Length
79.6mm x 94.5mm (3.1" x 3.7")
Weight
570g (20.2oz)
Review Summary
Tamron has taken the versatility of their
17-50mm f/2.8
and added effective VC image stabilization to offer a true competitor to the
Canon 17-55mm IS
.
KenRockwell.com
If you're considering this mostly plastic lens, go for it. It works reasonably well — with one big catch: This Tamron's VR/IS/VC system works only if you have the time to wait a moment before you snap each and every photo. There is a huge flaw if you make a photo before waiting a second for it to settle down. If you snap a photo without waiting for the VC/VR/IS system to settle, it will blur your image worse than if you had no VC, VR or IS!
SLRGear.com
Tamron seems to have had to make some sacrifices to add Vibration Control to its popular 17-50mm ƒ/2.8. It's not bad with regard to sharpness, just not as good as the non-VC version, leading potential buyers to decide how badly they need Vibration Control.
Photo.net
The Tamron 17-50/2.8 Di II VC is a viable alternative to the Canon EF-S 17-55 f/2.8 IS USM, $1060 (review) at a price that's about $450 lower. The image stabilization is very effective and overall performance is good, though not quite as good as the Canon lens, especially wide open and at the edges of the frame.
PhotoZone.de
The Tamron AF 17-50mm f/2.8 XR Di II LD Aspherical [IF] VC is a very promising lens based on its sheer specifications. However, it falls somewhat short of the high expectations especially when considering the excellent performance of its non-VC variant. The biggest weakness of the lens is the rather soft corner/border performance at large aperture settings.