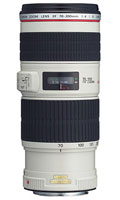 Canon EF 70-200mm f/4 L IS USM Specifications
Frame Coverage
35mm
Lens Construction (groups)
15
Lens Construction (elements)
20
No. of Diaphragm Blades
8
Minimum Aperture
32
Closest Focusing Distance
1.2m (47.2")
Maximum Magnifcation
0.21x
Filter Diameter
67mm
Maximum Diameter x Length
76mm x 172mm (3" x 6.7")
Weight
760g (26.8oz)
PhotoZone.de
The Canon EF 70-200mm f/4 USM L IS is an amazing lens. It is truly outstanding when used on APS-C DSLRs and it suffers only from a minor quality deteriorations on full format DSLRs. The resolution figures are easily on prime levels throughout the whole range and even at max. aperture. Unlike most other full format lenses it manages to keep the vignetting on a moderate level.
Ken Rockwell
The Canon 70-200mm f/4 L IS is as perfect a zoom lens as I have ever used, and its ergonomics are also first-rate, never getting in the way of a great photograph. I wish all telephoto zooms focused more closely, to about 1.5' (0.5m) instead of 4' (1.2m), but no similar high performance zoom does any better.
The-Digital-Picture.com
For many, many other general-purpose tele-zoom needs, the Canon EF 70-200mm f/4.0 L IS USM Lens will be a great solution. For shooting at the park (public park, ball park, water park, ...) the beach, the vacation rental house, or just out in the back yard, this is a great lens to have in the kit.