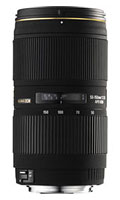 Sigma 50-150mm f/2.8 II EX DC HSM Specifications
Frame Coverage
APS-C
Lens Construction (groups)
14
Lens Construction (elements)
18
No. of Diaphragm Blades
9
Minimum Aperture
22
Closest Focusing Distance
1m (39.4")
Maximum Magnifcation
0.19x
Filter Diameter
67mm
Maximum Diameter x Length
76.3mm x 140.2mm (3" x 5.5")
Weight
780g (27.5oz)
SLRGear.com
With the big caveat that you want to ensure you have a good-quality sample, I'm impressed with the results presented by the Sigma 50-150mm ƒ/2.8 II. Its optical quality, marred only by de-centered lens element(s) in this copy, is very good. Build quality and overall construction is also admirable.
The-Digital-Picture.com
The Sigma 50-150mm f/2.8 II EX DC HSM Lens is a very attractive combination of focal length range, wide aperture and size/weight. Unfortunately, focus calibration issues appear to be prevalent in this lens. All three purchased-retail-new copies of this lens I tried strongly front-focused on both my Canon EOS Rebel XSi / 450D and Canon EOS 40D DSLRs.