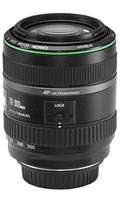 Canon EF 70-300mm f/4.5-5.6 DO IS USM Specifications
Frame Coverage
35mm
Lens Construction (groups)
12
Lens Construction (elements)
18
No. of Diaphragm Blades
6
Minimum Aperture
32-38 (1/3-stop increments is f/32-40)
Closest Focusing Distance
1.4m (55.1")
Maximum Magnifcation
0.24x
Filter Diameter
58mm
Maximum Diameter x Length
82.4mm x 99.9mm (3.2" x 3.9")
Weight
720g (25.4oz)
PhotoZone.de
The Canon EF 70-300mm f/4.5-5.6 USM DO IS is a promising new approach ... on paper at least. The DO elements allows a much more compact design compared to conventional lenses and our camera bags are certainly big enough already so that's something to be appreciated for sure. However, optically the lens stays somewhat short of the expectations.
Ken Rockwell
You're paying a premium for gee-whiz technology and superior focus flexibility over the non-DO Canon 70-300mm IS, as well as losing 1.7" (43mm) in length, but otherwise I prefer the non-DO version at half the price.
E-Fotografija.com
I can confirm that EF 70 – 300mm 4.5 – 5.6 DO IS USM is an excellent lens from many perspectives. It's main benefits are compactness, fine quality, second generation IS and fast focusing.
Bob Atkins
It seems that those who realize what the 70-300DO lens is, and what applications it's aimed at, generally like it and are happy with it. Those who think it might be a small, light lens with the optical performance of an "L" series prime will be the ones who are disappointed.
William Castleman
The Canon EF 70-300mm f/4.5-5.6 DO IS USM is a compact, very fast-focusing zoom telephoto lens that provides generally excellent imaging function including excellent image stabilization at a high price.
Luminous-Landscape.com
If I didn't already own the superb Canon 70-200mm f/2.8L IS I'd be very tempted by the new DO, since I'll take the trade-off of 2 extra stops of aperture for the extra focal length any time. Nevertheless the 70 - 300mm f4.5-5.6 DO IS is a very appealing lens indeed.