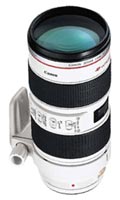 Canon EF 70-200mm f/2.8 L IS USM Specifications
Frame Coverage
35mm
Lens Construction (groups)
18
Lens Construction (elements)
23
No. of Diaphragm Blades
8
Minimum Aperture
32
Closest Focusing Distance
1.4m (55.1")
Maximum Magnifcation
0.17x
Filter Diameter
77mm
Maximum Diameter x Length
86.2mm x 197mm (3.4" x 7.8")
Weight
1590g (56.1oz)
DPReview.com
The Canon 70-200mm F2.8 L IS USM is quite simply an excellent lens, which will reward users with quality images in almost every situation. On full-frame 35mm, sharpness is very good even wide open, becoming excellent corner-to-corner when stopped down. In addition, chromatic aberration is remarkably low, distortion well under control, and vignetting no worse than we'd expect in this class.
AstroPix.com
In my opinion, these lenses are not usable for high-quality long-exposure deep-sky astrophotography when used wide open unless the photographer is willing to clip a significant amount of highlight detail in the stars.
William Castleman
For most photographic applications, either 70-200mm f/2.8 lens is an outstanding tool that produces exceptional image quality. Deciding whether to buy the IS lens or the non-IS lens should probably revolve around the photographer's perceived need to have image stabilization.
Luminous-Landscape.com
If you already own the original 70~200mm f/2.8L then the decision to upgrade is a bit tougher. You already know how good this lens is. If you can find someone to give you a good price for your old lens, and feel that adding IS will make sense for your style of shooting, then I believe it's worthwhile.
Photodo.com
With its wide open f/2.8 light gathering abilities, fast autofocus and the image stabilisation helping too, there will be no excuse that the lens wasn't up to the job.