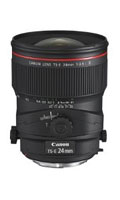 Canon TS-E 24mm f/3.5 L II Tilt-Shift Specifications
Frame Coverage
35mm
Lens Construction (groups)
11
Lens Construction (elements)
16
No. of Diaphragm Blades
8
Minimum Aperture
22
Closest Focusing Distance
0.21m (8.3")
Maximum Magnifcation
0.34x
Filter Diameter
82mm
Maximum Diameter x Length
88.5mm x 106.9mm (3.5" x 4.2")
Weight
780g (27.5oz)
PhotoZone.de
We raved already about the qualities of the extraordinary Canon TS-E 17mm f/4 L and the Canon TS-E 24mm f/3.5 L II is basically on the same high level. When using the lens based on conventional settings it behaves pretty much like an excellent, albeit a little slow, 24mm prime lens. The center performance is outstanding here followed by very good borders/corners and that's straight from f/3.5 till f/11.
DPReview.com
The Canon TS-E 24mm F3.5 L II is a lens which, given its price, has high expectations to meet. The good news is that, in almost all respects, it succeeds - the build quality is exemplary (certainly on a par with the EOS-1 series bodies it's likely to be paired with), and the new, more flexible system of movements works very well indeed.
The-Digital-Picture.com
Though it lacks autofocus and the focal length versatility of a zoom lens, the impressive image quality along with the tilt/shift/rotation features make the Canon TS-E 24mm f/3.5 L II Tilt-Shift Lens the ultimate landscape and architecture lens (for applications where 24mm works well at least). This includes interior architecture as well.