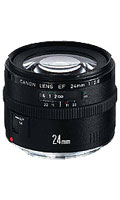 Canon EF 24mm f/2.8 Specifications
Frame Coverage
35mm
Lens Construction (groups)
10
Lens Construction (elements)
10
No. of Diaphragm Blades
6
Minimum Aperture
22
Closest Focusing Distance
0.25m (9.8")
Maximum Magnifcation
0.16x
Filter Diameter
58mm
Maximum Diameter x Length
67.5mm x 48.5mm (2.7" x 1.9")
Weight
270g (9.5oz)
SLRGear.com
Shot wide-open, the 24mm ƒ/2.8 shows high levels of corner softness (extremely high, on full-frame bodies), which may or may not be a desirable effect. CA performance is good, corner shading is good (except on full-frame, where it's objectionable) and distortion is about what you'd expect for a wide-angle lens. That said, it's not overly expensive, and if you want wide-angle on a budget, it's one of your only options.
Petteri Sulonen
If you're a prime-o-phile, really hate flare, or consider portability and optical bang for the buck as very high priorities, you won't be disappointed with the "little 24." It's as solid, dependable, and well-balanced a lens as any I've used. Like all of the Ducklings, its greatest strength isn't in any single characteristic, but rather the very well-balanced mix of characteristics it brings to the table.
PhotoZone.de
At the optimal focus distances the EF 24mm f/2.8 is an excellent performer capable to deliver images as sharp as it gets on an 8MP APS-C DSLR. For most situations this is generally true but residual spherical aberration can be a problem at close-focus distances (as explained in the MTF chapter above).
The-Digital-Picture.com
The tiny and reasonably inexpensive Canon EF 24mm f/2.8 Lens is actually a good performer. Although f/2.8 is not fast considering the 24's fixed focal length, it is reasonably sharp wide open with a nice improvement when stopped down to f/5.6. Corners are relatively sharp even wide open on full frame body.