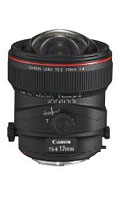 Canon TS-E 17mm f/4 L Tilt-Shift Specifications
Frame Coverage
35mm
Lens Construction (groups)
12
Lens Construction (elements)
18
No. of Diaphragm Blades
8
Minimum Aperture
22
Closest Focusing Distance
0.25m (9.8")
Maximum Magnifcation
0.14x
Filter Diameter
N/A
Maximum Diameter x Length
88.9mm x 106.7mm (3.5" x 4.2")
Weight
820g (28.9oz)
PhotoZone.de
The Canon TS-E 17mm f/4 L is an amazing lens although beginners will struggle to master its possibilities at once. When using the lens based on conventional settings it behaves pretty much like a normal ultra-wide prime lens. The borders are a bit soft at f/4 but at medium aperture settings it's very sharp across the frame. The level of barrel distortions is unusually low.
Luminous-Landscape.com
Canon has had tilt and shift lenses in its line-up for many years, and the new 17mm is quite similar in its basic design. If you've used any of the others before, then this one will be little different in basic operation. But, there have been some significant mechanical design improvements implemented with this lens.
The-Digital-Picture.com
While not as jaw-droppingly sharp as the Canon TS-E 24mm f/3.5 L II Tilt-Shift Lens, the Canon TS-E 17mm f/4 L Tilt-Shift Lens is quite sharp wide open in the center. Mid and corner portions of the frame appreciate a somewhat narrowed aperture to bring out their best.