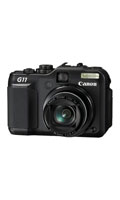 Canon PowerShot G11 Specifications
Lens
6.1-30.5mm f/2.8-4.5 (35mm film equivalent: 28-140mm)
Recording Media
SD card
Image Sensor Size
1/1.7"
Max Resolution
3648 x 2736
Effective Pixels
10 million
RAW Output
Yes
Optical Viewfinder
Yes
Image Stabilization
Yes, Lens
Battery
Lithium-Ion NB-7L & charger
Dimensions (W x H x D)
112.1 x 76.2 x 48.3mm (4.4 x 3 x 1.9")
Weight (incl. battery)
355g (12.5oz)
BobAtkins.com
So the G11 isn't perfect, but it's probably the best camera of its type currently available. If you want something you can put in your pocket that has an extensive set of features (and manual control of most of them), a good zoom lens, effective stabilization and good (by digicam standards) low light performance, the G11 should probably be top of your list.
DPReview.com
Handling is undoubtedly one of the things that that sells the G11 - its ISO and Exposure Compensation dials provide a feeling of connection with the camera's operation that even the best menu systems and button-based user interfaces can't. This sense of the G11 being a 'proper' camera extends to the high number of direct access buttons that get you straight to the changes you want to make.
Strobist.Blogspot.com
The Canon Powershot G11, the latest evolution of the G-cam line, represents a marked improvement over its predecessors -- which is really saying something. It is a point-and-shoot that can take real photos, and quickly has become my near-constant companion.
KenRockwell.com
The G11 is an extraordinary camera. More than its specifications, it's a camera that just keeps churning out great images if you know what you're doing. As always, Canon keeps slipping in clever little firmware extras to do more, and do it more easily.
CameraLabs.com
The headline feature of the G11 is its low light capability with Canon taking a sensible reverse-turn on its earlier obsession with Megapixels. It works too, with the G11's lower resolution allowing it to perform at least one stop better than its predecessor.
PhotographyBlog.com
The Canon PowerShot G11 is capable of capturing plenty of fine detail, especially evident when images are downloaded and examined close up on a desktop, colours being for the most part natural, even when the likes of vivid colour mode are deployed to add some visual punch to blues and greens in landscape shots.
Luminous-Landscape.com
For the money the G11 offers good value for many photographers, and its articulated LCD and optical viewfinder make it somewhat unique in this marketplace. That's the primary reason for my "Recommended" stamp. But don't expect the drop to 10MP from 15MP on the previous model to be a magic bullet. It isn't.