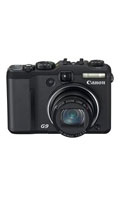 Canon PowerShot G9 Specifications
Lens
7.4-44.4mm f/2.8-4.8 (35mm film equivalent: 35-210mm)
Recording Media
SD card
Image Sensor Size
1/1.7"
Max Resolution
4000 x 3000
Effective Pixels
12 million
RAW Output
Yes
Optical Viewfinder
Yes
Image Stabilization
Yes, Lens
Battery
Lithium-Ion NB-2LH & charger
Dimensions (W x H x D)
106 x 72 x 43mm (4.2 x 2.8 x 1.7")
Weight (incl. battery)
370g (13.1oz)
TheCleverest.com
In extreme photographic situations requiring low-light shooting, subject tracking, narrow depth-of-field, and fast shutter speeds, the 5D will surely best the G9. But for situations where you simply need to capture a moment, the G9 is a very impressive option - especially if you've been spoiled by the amazing images the 5D produces.
NaturePhotographers.net
I found that when properly exposed and processed, the images from the G9 made sharp, clean files that produced amazing 12x16 enlargements that easily rivaled that from 35mm film. Wow, a snapshot camera that could make big photos! The lower ISO settings made the best quality images (ISO 80-200) but I was still impressed by the higher ISO settings given the huge pixel count on the small sensor.
Luminous-Landscape.com
The G9's imagine stabilization is the best I've ever used, and was a key reason to my preferring it over the Leica. The camera's ability to capture tack sharp images at exposures down to 1/2 second with a bit of proper bracing made working with the G9 a real joy. It literally made my photography bigger -- allowing me to shoot in light that would otherwise have been impossible.
Imaging-Resource.com
The return of Raw format to the G-Series by itself makes the G9 a far more interesting option than its immediate predecessor. The large LCD just seals the deal. Fans of earlier G-Series cameras will have to content themselves with the knowledge that, while the LCD isn't articulating, it does have a wide-angle of view. And while the f/2.8 lens isn't as fast as the f/2.0 lens, it does include image stabilization.
DPReview.com
The G9 has more to recommend it than most enthusiast compacts we test, and at ISO 80 the quality is simply superb. It's a pleasure to use, is built like a tank and offers an SLR-like feature set in a compact format. Yes, you can buy a PowerShot A650 IS (same lens, same sensor, similar feature set and a vari-angle screen) for around a hundred dollars less, but take my word for it, the G9 is in a different league.
CameraLabs.com
Ultimately the PowerShot G9 may not be without its faults, but there's simply few if any alternatives which offer this degree of control and flexibility in a pocketable form factor. There are certainly smaller compacts out there, but none have the G9's control and options. And while there's decent controls on (most) super-zooms and DSLRs, none will squeeze into your pocket.
DCResource.com
The PowerShot G9 is a solid high-end camera, though it won't be replacing your digital SLR anytime soon. It offers a full set of features, both automatic and manual, and throws them into a well-built, expandable body. If you keep the ISO as low as possible you'll get some nice photos out of the camera, though a D-SLR will wipe the floor with the G9 at higher sensitivities.
DigitalCameraInfo.com
The Canon PowerShot G9 isn't perfect – its Burst mode is slow, its 6x optical zoom doesn't function in the Movie mode, and its autofocus system takes more time than it should – but it's almost there. It is fairly priced at $499, as it is stuffed with lots of great features, manual controls, and high-quality components, which make it worth the price.
TheOnlinePhotographer.com
If you're looking for a go-anywhere pocketable camera in this price range you owe it to yourself to look at Canon's G9. I believe that it truly represents today's gold standard for point & shoot camera performance and specifications.
CNET.com
The Canon PowerShot G9 gets a leg up over its predecessor by improving photo quality and restoring raw-format support while maintaining the same excellent performance and body design. You probably can't miss with this model as a compact backup for your dSLR.