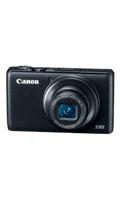 Canon PowerShot S90 Specifications
Lens
6.0-22.5mm f/2.0-4.9 (35mm film equivalent: 28-105mm)
Recording Media
SD card
Image Sensor Size
1/1.7"
Max Resolution
3648 x 2736
Effective Pixels
10 million
RAW Output
Yes
Optical Viewfinder
No
Image Stabilization
Yes, Lens
Battery
Lithium-Ion NB-6L & charger
Dimensions (W x H x D)
100 x 58.4 x 30.9mm (3.9 x 2.3 x 1.2")
Weight (incl. battery)
195g (6.5oz)
CameraLabs.com
If size is an issue and you want a genuinely pocketable compact with enthusiast features and performance, then the PowerShot S95 is your best choice. What started as a sleeper model in last year's range has now become one of the most compelling in the current Canon line-up and comes Highly Recommended.
DCResource.com
The PowerShot S95 takes just one second to extend its lens and prepare for shooting -- that's pretty darn quick. Autofocus speeds were about the same as they were on the PowerShot S90, meaning good, but not spectacular. Typically it'll take between 0.3 - 0.5 seconds to lock focus at the wide end of the lens, and around twice that at full telephoto. The camera focuses accurately in low light situations, taking around a second to lock in most cases.
TheOnlinePhotographer.com
The Canon Powershot S95 is an attractive camera. Carrying it is no harder than carrying an iPhone. It is easily pocketable. It has a flat black, kind of rough surface that lets you get a good grip. I have large hands, but had no problem managing the controls. This camera has a full auto mode, but also allows for full manual control as well as the usual options of shutter speed priority, aperture priority, and program and custom modes.
Imaging-Resource.com
The most compelling feature of the Canon S95 is the good quality, fast lens. The f/2 designation means that the S95 can gather twice as much light at wide-angle as a camera whose widest aperture is f/2.8 at wide-angle, because it's a whole stop difference between the two. That means you can use a faster shutter speed in low light than you would with most digital cameras, which is better for indoor and night photos.
KenRockwell.com
The Canon S95 is the much improved new version of the extraordinary Canon S90. The Canon S95 fixes the S90's flaky rear control dial and hard-to-find-by-feel shutter button, and adds a host of clever new features. As expected, images from the S95 look great, just as did images from the S90, and the S95 handles even faster and better than the S90.