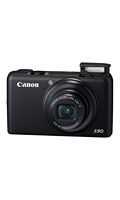 Canon PowerShot S90 Specifications
Lens
6.0-22.5mm f/2.0-4.9 (35mm film equivalent: 28-105mm)
Recording Media
SD card
Image Sensor Size
1/1.7"
Max Resolution
3648 x 2736
Effective Pixels
10 million
RAW Output
Yes
Optical Viewfinder
No
Image Stabilization
Yes, Lens
Battery
Lithium-Ion NB-6L & charger
Dimensions (W x H x D)
100 x 58.4 x 30.9mm (3.9 x 2.3 x 1.2")
Weight (incl. battery)
175g (6.2oz)
DPReview.com
Photographers looking for a serious, pocket-friendly, compact camera haven't had a lot to choose from, and the S90 offers the first real competition to Panasonic's LX3, the success of which almost certainly led Canon to revive the long-running and much missed 'S' series. I may not have liked it when I first used it, but I soon found myself picking it up every time I went out the door.
CameraLabs.com
Canon's PowerShot S90 is an ideal choice for enthusiasts who want a pocket camera without compromising on control and features. By essentially squeezing the PowerShot G11's quality and control into a considerably smaller body with a brighter lens on the front, the S90 becomes one of the most desirable models in Canon's current range.
PhotographyBlog.com
In terms of ISO performance the S90 excels in keeping noise down to acceptable levels. Even at ISO 3200, though detail has softened our test images reveal results that arguably, would give lesser compacts shooting at ISO 800 a run for their money, or certainly ones taking images at ISO 1600 if we're being particularly conservative.
Cnet.com
About the only thing that's unimpressive with the S90 is its performance; those searching for digital SLR speed in a pocket camera probably won't be happy. But, aside from a few other minor criticisms, the S90 is a first-rate compact camera for advanced amateurs.
Luminous-Landscape.com
A day or so of use convinced me that Canon is really on to something with the design of the S90's control interface. This starts with a Control Ring that surrounds the lens. It falls to hand where a manual focusing ring might be found, and it can be programmed to provide a number of different functions, including Exposure Compensation, ISO setting, Focusing, White Balance, and Zooming.