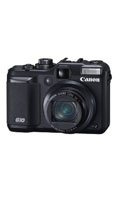 Canon PowerShot G10 Specifications
Lens
6.1-30.5mm f/2.8-4.5 (35mm film equivalent: 28-140mm)
Recording Media
SD card
Image Sensor Size
1/1.7"
Max Resolution
4416 x 3312
Effective Pixels
14.7 million
RAW Output
Yes
Optical Viewfinder
Yes
Image Stabilization
Yes, Lens
Battery
Lithium-Ion NB-7L & charger
Dimensions (W x H x D)
109.1 x 77.7 x 45.9mm (4.3 x 3.1 x 1.8")
Weight (incl. battery)
350g (12.3oz)
DCResource.com
For the most part, the PowerShot G10 doesn't look a lot different than its predecessor. The most noticeable changes are the refined right hand grip, and new dial layout on the top of the camera. The G10 is made of a mixture of metal and plastic, and it feels quite solid in your hands.
DPReview.com
The G10 is a camera you don't want to put down once you have picked it up. It encourages users to take pictures, and turn the dials: to experiment and have fun. This is one heck of a fun camera to use. In the hand, it inspires confidence with solid construction and secure and comfortable hand grip. The G10 quickly becomes second nature to use, which is not something that can be said of many compacts.
CameraLabs.com
The PowerShot G10 remains a superb compact camera. It's built like a brick yet comfortable to use, boasts full manual control along with a flash hotshoe and RAW recording, has an excellent looking screen, a flexible zoom range with wide angle capabilities and decent stabilisation, and the potential to deliver images packed with detail.
TheOnlinePhotographer.com
It is easy to see that Canon has done something amazing with all those pixels it crammed into that small sensor. In a well lit, well exposed photo taken at low ISO, the image quality is so good that I was caught off guard. I kept checking to make sure I was looking at the photos from the G10 and not my 5D or 1Ds.
Luminous-Landscape.com
From the perspective of controls, ergonomics and feature / functions, the Nikon P6000 strikes me as an upmarket point and shoot while the Canon G10 seems that be that company's renewed attempt to make a pocket camera for serious amateurs and pros. I know that those are fighting words, but if one takes the time to handle both cameras I think you may find that it's a reasonably fair comment.