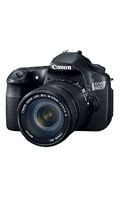 Canon EOS 60D Specifications
Type
Digital AF/AE SLR, with built-in flash
Recording Media
SD/SDHC/SDXC card
Image Sensor Size
22.3 x 14.9mm
Lens Mount
Canon EF mount
Compatible Lenses
Canon EF lenses, Canon EF-S lenses
Max Resolution
5184 x 3456 pixels
Effective Pixels
18.0 million
Dimensions (W x H x D)
144.5 x 105.8 x 78.6mm (5.7 x 4.2 x 3.1")
Weight (incl. battery)
755g (26.6oz)
PopPhoto.com
In two very full days of shooting with the Canon EOS 60D in Yellowstone, we found it for the most part comfortable to use. We were able to switch all the settings relatively quickly (with the annoying exception of movie mode), and the articulating LCD led us to use live view much more than we would have without such a screen. This also let us brace the camera on a railing or in the nook of a rock when a tripod was not an option.
DPReview.com
Customers who previously would have bought the X0D series now have to decide whether it's the 60D or 7D that better suits their needs. It's not a criticism of the 60D to suggest that some of them could reasonably decide that they need the 7D's additional features.
The-Digital-Picture.com
New to the xxD line and similar to the EOS 7D, this pop-up flash includes an Integrated Speedlite Transmitter for control of multiple off-camera EOS Speedlites. No Canon 580EX II Flash or Canon ST-E2 Speedlite Transmitter is needed to completely control as many remote flashes as desired. Using one of 4 available channels, take complete control of up to 2 groups of flashes (A & B, but C is missing) with ratios of up to 8:1.
CameraLabs.com
The biggest new feature of the EOS 60D though is its fully articulated screen – indeed it's the first Canon DSLR to offer one. This allows the screen to twist and flip in any direction, for easy composition at high or low angles, along with folding out to face the photographer or back on itself for protection.