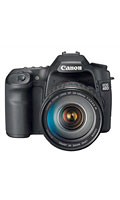 Canon EOS 40D Specifications
Type
Digital AF/AE SLR, with built-in flash
Recording Media
Type I or II CF card
Image Sensor Size
22.5 x 15.0mm
Lens Mount
Canon EF mount
Compatible Lenses
Canon EF lenses, Canon EF-S lenses
Max Resolution
3888 x 2592 pixels
Effective Pixels
10.1 million
Dimensions (W x H x D)
144 x 108 x 74mm (5.7 x 4.3 x 2.9")
Weight (incl. battery)
836g (29.5oz)
Ready to buy?

DCResource.com
The 40D is a midsize D-SLR that's built like a tank. It's frame is a mix of stainless steel and a magnesium alloy, and the outer shell is made of high grade plastic and rubber. Add in a large right hand grip and you have a camera that feels safe and secure in your hands. The camera does have its share of buttons, though most of them are easy to figure out without having to pop open the manual.
Imaging-Resource.com
Images from the Canon 40D are excellent. High ISO images printed at 13x19 inches are usable from ISO 100 to 800, with little noticeable noise, and little evidence of noise suppression. You can see a more gradual degradation as you move up the ladder when viewing onscreen at 100 percent, but it's hardly noticeable when printed. Impressive.
DPReview.com
When I first started using the EOS 40D a simple description came to mind: that this is a 'well sorted camera'. It feels well rounded - the result of years of evolutionary improvement, it delivers in almost every area, and it inspires confidence.
The-Digital-Picture.com
With its all-around good performance combined with the densest Canon DSLR sensor available, the 40D will have a large number of wildlife (especially bird) photographers as its owners. I'll personally be making the 40D part of my kit (replacing my 30D).
Photo.net
The Canon 40D is the best digital SLR body for budget-conscious wildlife photographers. Within the Canon system, the 40D makes sense for people who leave the house on a specifically photographic mission and don't mind carrying the extra weight and bulk in exchange for the ruggedness and two-wheel user interface.
Wyofoto.com
The IQ I see in the 40D images from ISO 100-800 is 95% the match of the 5D. At 1600 the shadow noise of the 5D looks to be a tad bit better than the 40D, but not by a large margin. The 40D's tonality and richness in color gives the 5D a real run for the money.
CameraLabs.com
The Live View facility works well, especially when remote-controlled using a PC, and the silent-shooting modes prove it doesn't have to make a racket either. The anti-dust system whether through luck or design also proved quite effective in our tests, with foreign particles rarely being an issue.
Bob Atkins
The EOS 40D is more than a minor upgrade of the EOS 30D. It's basically a new camera with a new sensor, a new 14-bit processing engine, a new AF system and new features such as Live View, Highlight Priority and High ISO noise reduction as well as improved ergonomics with the enhanced 3" LCD. Though it looks much like the 20D/30D it seems to have a more "pro" feel.
Roland Lim
Due to the fact that all 9 autofocus sensors are cross-type sensors in the 40D, autofocus with the peripheral sensors have much improved over the 20D/30D especially under low-light low or low contrast situation. Previously, with the 20D, it was very difficult to get the focus to lock on with the peripheral sensors under lowlight or low contrast scenes.
Luminous-Landscape.com
The image quality of the 40D is excellent, continuing the industry-leading results that Canon has offered for the past 5-6 years. I didn't see any breakthrough in low noise at the highest ISOs, but as with the EOS 5D ISO 400 is essentially noiseless and can be used as an everyday speed. Noise doesn't really become an issue until ISO 1600 and even then isn't that objectionable.