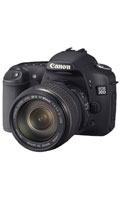 Canon EOS 30D Specifications
Type
Digital AF/AE SLR, with built-in flash
Recording Media
Type I or II CF card
Image Sensor Size
22.5 x 15.0mm
Lens Mount
Canon EF mount
Compatible Lenses
Canon EF lenses, Canon EF-S lenses
Max Resolution
3504 x 2336 pixels
Effective Pixels
8.2 million
Dimensions (W x H x D)
144 x 106 x 74mm (5.7 x 4.2 x 2.9")
Weight (incl. battery)
784g (27.7oz)
Ready to buy?

CameraLabs.com
Canon's EOS 30D may be little more than an evolutionary step forward, but it's crucial to remember it improves upon a camera which most agreed was already excellent. While it may have been more honest to describe it as a 20D Mark II, the 30D remains a great camera which is enjoyable and rewarding to use.
Bob Atkins
I've been shooting with an EOS 20D since it was introduced in the fall of 2004 and I've been very happy with it. I expected the EOS 30D to be essentially the same and in many ways it is, though I have to admit that it is a nicer camera to use.
The-Digital-Picture.com
Many serious amateurs and professionals will be choosing this body as their primary camera. Many others will be choosing the 30D as their backup camera (I am a member of this group).