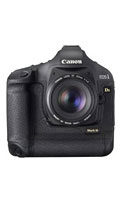 Canon EOS 1Ds Mark III Specifications
Type
Digital AF/AE SLR
Recording Media
Type I or II CF card, SD card
Image Sensor Size
36mm x 24mm
Lens Mount
Canon EF mount
Compatible Lenses
Canon EF lenses (not compatible with Canon EF-S lenses)
Max Resolution
5616 x 3744
Effective Pixels
21.1 million
Dimensions (W x H x D)
150 x 160 x 80mm (5.9 x 6.3 x 3.2")
Weight (incl. battery)
1385g (48.9 oz)
DPReview.com
So what's our take on the EOS-1DS Mark III after spending so long with it? The answer is, I guess kind of predictable: It is undeniably impressive, and though it appears on the surface to be a fairly low key update to the Mark II, the more you use it the more you realize how all the little improvements add up to a significantly better camera (and that's aside from the resolution hike).
Ken Rockwell
The Canon 1Ds Mk III is a solid brick of a camera, has extraordinarily high technical image quality, but is hindered by sucky ergonomics and a mediocre LCD. Like the Canon 5D, it is a relative pain to use, but if you can get over that, the technical quality of the images exceeds anything from Nikon.
Photo.net
The EOS 1Ds Mark III is a remarkable display of engineering prowess. Do you need a weatherproofed camera that is strong enough to drive nails while producing the world's best image quality? If so, the 1Ds is a bargain. If not, the Canon EOS 5D is a better value. I never wanted a 1Ds. Now I do. But probably I'll wait for the revision of the EOS 5D.
Imaging-Resource.com
The images from the 1D Mark III are beautiful. Though we usually roll our eyes when companies list ridiculously high ISO ratings, we were pleasantly surprised by how good the Mark III's ISO 6,400 images are. Noise is present, of course, but it's at a level that most cameras produce at ISO 1,600 or 800. We found the 8x10 printed results to be quite acceptable from the ISO 6,400 setting.
Luminous-Landscape.com
While the upgrade from the 1Ds to the MkII was a modest one (11MP to 16MP was about it) the 1Ds MKIII is almost a completely new camera. Yes, it looks the same, but from the battery to the LCD screen, to the shooting rate, to the menu interface – the 1Ds MKIII offers a range of improvements that make it well worthwhile for anyone currently owning either a 1Ds or a MKII.