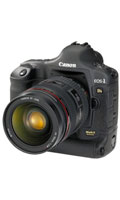 Canon EOS 1Ds Mark II Specifications
Type
Digital AF/AE SLR
Recording Media
Type I or II CF card, SD card
Image Sensor Size
36mm x 24mm
Lens Mount
Canon EF mount
Compatible Lenses
Canon EF lenses (not compatible with Canon EF-S lenses)
Max Resolution
4992 x 3328
Effective Pixels
16.6 million
Dimensions (W x H x D)
156 x 157.6 x 79.9mm (6.1 x 6.2 x 3.1")
Weight (incl. battery)
1565g (55.2 oz)
Luminous-Landscape.com
There is no doubt that for very big enlargements 4x5 retains an edge. But in every other respect digital captures makes a lot more sense. Furthermore, not all images need to be printed at 40x50. Some images call for smaller enlargements, and for those 4x5 is simply overkill.
Imaging Resource
Carrying over a host of improvements and innovations from the 1D Mark II, the EOS-1Ds Mark II improves image quality and performance over the original 1Ds, while at the same time raising the resolution to an incredible 16.7 megapixels.
DPReview.com
Carrying on from the EOS-1Ds the Mark II has a full size 35 mm (36 x 24 mm) sensor which means it introduces no field-of-view crop, an 18 mm lens on this camera will provide exactly the same field-of-view as it would on a 35 mm film camera.
William Castleman
The Mark II provides substantially increased performance over the original 1Ds in many areas. However, image quality in prints is only slightly improved in the 1Ds Mark II over those produced by the outstanding original EOS-1Ds.
Luminous-Landscape.com
In the end, the 1Ds Mark II stands alone, (for the moment at least), as the camera with the combination of highest image quality and fastest handling available.
The-Digital-Picture.com
The bottom line - The Canon EOS 1Ds Mark II has arguably the highest image quality of any currently available Digital SLR. Outstanding resolution from a rugged Digital SLR that feels great in my hand, the Canon EOS 1Ds Mark II delivers.