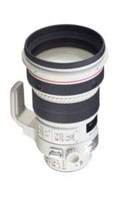 Canon EF 200mm f/2 L IS USM Specifications
Frame Coverage
35mm
Lens Construction (groups)
12
Lens Construction (elements)
17
No. of Diaphragm Blades
8
Minimum Aperture
22
Closest Focusing Distance
1.9m (74.8")
Maximum Magnifcation
.12x
Filter Diameter
52mm (rear gel)
Maximum Diameter x Length
128mm x 208mm (5" x 8.2")
Weight
2520g (88.9oz)
Welsh-House.net
For people portraits, event photography (weddings, parties etc.), and sports is where this lens shines. It is not well suited for astrophotography or macro work, and far less expensive alternatives for those functions are available. While the hope was this lens would be an all-in-one solution, it excells at certain things and underperforms at others.
SLRGear.com
The 200mm ƒ/2 is a very, very sharp lens. It almost makes more sense to discuss where it isn't tack-sharp, because it hits maximum sharpness anywhere it really matters. Wide open at ƒ/2 on our 20D, our sample of the lens showed a trace of corner softness in the bottom-right corner, barely hitting 2 blur units. Otherwise, image sharpness is very good, showing 1 blur unit in the central region.
The-Digital-Picture.com
The Canon EF 200mm f/2.0 L IS USM Lens is the highly-anticipated replacement for the long-discontinued but legendary Canon EF 200mm f/1.8 L USM Lens. This replacement lens was number 1 on my personal most-wanted Canon lens list - And I am in no way disappointed with it. It is an optically, mechanically and physically awesome lens. If you can manage the price and weight, this lens will impress you.