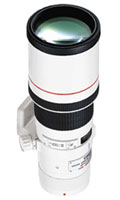 Canon EF 400mm f/5.6 L USM Specifications
Frame Coverage
35mm
Lens Construction (groups)
6
Lens Construction (elements)
7
No. of Diaphragm Blades
8
Minimum Aperture
32
Closest Focusing Distance
3.5m (137.8")
Maximum Magnifcation
.11x
Filter Diameter
77mm
Maximum Diameter x Length
90mm x 256.5mm (3.5" x 10.1")
Weight
1250g (44.1oz)
PhotoZone.de
Admittedly most users will probably vote for the EF 100-400mm f/4.5-5.6 USM L IS due to its extra zooming flexibility. However, the prime lens has some advantages. It is capable of achieving an evenly high resolution across the image frame combined with very low lateral CAs. Vignetting is not an issue even on a full format body.
SLRGear.com
The 400mm ƒ/5.6L USM produces sharp results - not tack-sharp, but certainly very good. Interpreting the results on our blur graphs is fairly easy and straightforward. On the 20D, images are evenly sharp at all apertures with the exception of ƒ/32 where it becomes just slightly uneven.
William Castleman
The EF 400mm f/5.6L was compared to the EF 300mm f/4L with the EF 1.4X and resolution data on a 400mm f/5.6L with the EF 1.4X was determined.
Luminous-Landscape.com
It's not big and impressive. It's not fast. It doesn't have Image Stabilization. It's not inexpensive. It's been around for years. So what's it good for? It's good for for taking remarkably sharp photographs and it's small enough and light enough to fit in your bag and be with you whenever needed.
The-Digital-Picture.com
If you need the best 400mm image quality available in this price range, the Canon EF 400mm f/5.6 L USM Lens is a good choice - it performs superbly. Give careful consideration to the Canon EF 100-400mm f/4.5-5.6 L IS USM Lens before making your buy/rent decision.