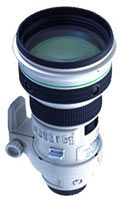 Canon EF 400mm f/4 DO IS USM Specifications
Frame Coverage
35mm
Lens Construction (groups)
13
Lens Construction (elements)
17
No. of Diaphragm Blades
8
Minimum Aperture
32
Closest Focusing Distance
3.5m (137.8")
Maximum Magnifcation
.12x
Filter Diameter
52mm (rear gelatin filter)
Maximum Diameter x Length
128mm x 232.7mm (5" x 9.2")
Weight
1940g (44.1oz)
Luminous-Landscape.com
I can't fault this lens in any way. To have an ultra-high quality large aperture 400mm lens in a size smaller than that of a super-300mm is a pleasure when working in the field. While I used the lens tripod mounted, using a Wimberley Sidekick gimbal mount 95% of the time, when I did hand-hold it the savings in weight were really appreciated.
The-Digital-Picture.com
Contrast is the Canon EF 400mm f/4.0 DO IS USM Lens' optical shortcoming - which also hurts the sharpness performance. I found that most of my shots needed a healthy contrast boost in post-processing (or a positive in-camera contrast setting). I could easily tell which image was taken with the 400 DO when looking at comparative shots on a monitor.
OutbackPhoto.com
We love the lens for the following reasons: Great optics, Good image stabilization, Very light for a 400mm lens, Fit into my Nature Tracker (with 2.0x tele extender and camera mounted). Anything we dislike? Only the price but even that seems to be in line with good other long glass. Once Canon will produce more DO lenses this price might go down.
NatureScapes.net
The most attractive attribute of the 400 DO is its extremely light weight: 4/1 2 pounds complete, and a bit under 4 pounds with the lens hood and tripod collar removed. I had used this lens briefly right after it was released in 2001 and was impressed by the sharp images it produced even when used with the 2X teleconverter.