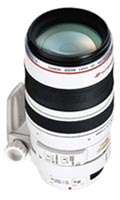 Canon EF 100-400mm f/4.5-5.6 L IS USM Specifications
Frame Coverage
35mm
Lens Construction (groups)
14
Lens Construction (elements)
17
No. of Diaphragm Blades
8
Minimum Aperture
32-38 (32-40 in 1/3 stop increments)
Closest Focusing Distance
1.8m (70.9")
Maximum Magnifcation
0.20x
Filter Diameter
77mm
Maximum Diameter x Length
92mm x 189mm (3.6" x 7.4")
Weight
1360g (48oz)
PhotoZone.de
The Canon EF 100-400mm f/4.5-5.6 USM L IS is almost a boring lens but in a positive sense. It shows no extreme weaknesses nor strengths. You will find sharper lenses - primes that is - but it is very sharp for a zoom lens, especially considering its 400mm, and that's throughout the range at all relevant aperture settings.
BobAtkins.com
About 10 years ago I looked at an EF 100-400/4.5-5.6L IS and I wasn't too impressed. It was good, but it wasn't as good as a 300/4L. Since many users had reported very good results with their 100-400IS lenses I thought I should give it another chance. Well, I can say that the 100-400L I tested here was very good.
Arthur Morris
The lens performed well and--contrary to some early reports--proved to be exceptionally sharp, even when shot wide open at the 400mm focal length. Before I ever laid hands on this lens, I knew that it would be the ideal safari lens.
OutbackPhoto.com
If you avoid f/5.6@400mm you get great results with the D30/100~400mm IS Zoom combination. As it is an image stabilized lens it is better to have a longer shutter speed than to use f/5.6.
The-Digital-Picture.com
Although not as sharp as my Canon EF 300mm f4.0 L IS Lens at 300mm, the Canon EF 100-400mm f/4.5-5.6 L IS USM Lens performed better than I expected after reading many reviews. I found it to be sharp wide open from 100mm up to 400mm with little change in between.
Photodo.com
In practice, when new, the lens is an improvement from the general group of 70-300mm lenses that many users will be upgrading from and the reputation that the lens has acquired is, for the most part, well deserved. It is only with the higher demands of digital capture, where everything gets inspected at 100% or more that some aspects of the design have come into question.