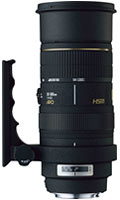 Sigma 50-500mm f/4-6.3 EX HSM Specifications
Frame Coverage
35mm
Lens Construction (groups)
16
Lens Construction (elements)
20
No. of Diaphragm Blades
9
Minimum Aperture
22
Closest Focusing Distance
1-3m (39.4-118.1")
Maximum Magnifcation
0.19x
Filter Diameter
86mm
Maximum Diameter x Length
95mm x 218.5mm (3.7" x 8.6")
Weight
1840g (64.9oz)
The-Digital-Picture.com
The Sigma 50-500mm f/4-6.3 EX DG HSM Lens is not cheap, but it is a decent value. And nothing else gives you 50-500mm in one lens. When a situation presents itself, you may not have time to change lenses.
NatureScapes.net
The versatility of this lens, especially combined with its price, made getting into nature photography feasible for me. This lens may be all some photographers need in their camera bag.
LonestarDigital.com
For the price, it can't be beaten. High quality, high performance, crystal clear, sharp from edge to edge, lightning fast zoom & sure-footed autofocus lock. Because of its considerable size and weight, consider it as a 500 mm telephoto that can zoom 'backwards' all the way down to 50 mm.
Photodo.com
The ability of this lens to frame subjects with all their surroundings as well as an ability to pick out distant objects without moving your feet or changing lenses does have its attractions. The enormous standard to ultra-telephoto range of the lens, along with a decent performance and almost total lack of distortion makes this one well worth considering. If you are travelling and don't want a sack-full of lenses it becomes almost indispensable!