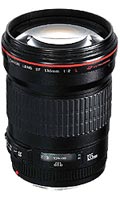 Canon EF 135mm f/2 L USM Specifications
Frame Coverage
35mm
Lens Construction (groups)
8
Lens Construction (elements)
10
No. of Diaphragm Blades
8
Minimum Aperture
32
Closest Focusing Distance
0.9m (35.4")
Maximum Magnifcation
.19x
Filter Diameter
72mm
Maximum Diameter x Length
82.5mm x 112mm (3.2" x 4.4")
Weight
750g (26.5oz)
KenRockwell.com
The Canon 135mm f/2 L is extraordinarily good optically, and it's small and light, feels great in-hand, has great ergonomics, and autofocus is immediate regardless of how far the AF system needs to rack the lens in or out. Just like any other virtuoso, the Canon 135/2 L makes everything it does look easy, regardless of how hard it is for Canon to make this lens this good.
PhotoZone.de
The Canon EF 135mm f/2 USM L is a highly desirable lens with excellent performance figures in most aspects. It is very sharp and contrasty straight from f/2 and it's outstanding at f/5.6. The bokeh is exceptionally smooth and buttery at f/2 and f/2.8 although it suffers a bit from bokeh fringing at these large aperture settings.
William Castleman
All three of these lenses are well-constructed and light weight. They are all ultra-fast focusing and produce high contrast images. They differ in resolution, 50% MTF (microcontrast), and background blurring (bokeh) produced as outlined below.
Photodo.com
A lens of this nature is a reasonably specialised piece of kit. It's speed, both light gathering and focussing, make it ideal for indoor sport and event work. It also scores highly if you want portraits with OOF backgrounds where the focal length is near perfect.
The-Digital-Picture.com
It is very sharp, it is very fast, it is very well built and it is one of the least expensive L lenses Canon makes. If 135mm is the focal length you need, you will not be disappointed by the Canon EF 135mm f/2.0 L USM Lens.