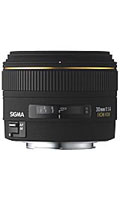 Sigma 30mm f/1.4 EX DC Specifications
Frame Coverage
APS-C
Lens Construction (groups)
7
Lens Construction (elements)
7
No. of Diaphragm Blades
8
Minimum Aperture
16
Closest Focusing Distance
0.4m (15.7")
Maximum Magnifcation
0.10x
Filter Diameter
62mm
Maximum Diameter x Length
75.5mm x 59mm (2.97" x 2.3")
Weight
430g (15.2oz)
Ken Rockwell
If you need a full f/1.4 in a normal focal length for a digital camera (normal for a digital SLR is 28mm, not 50mm), can work around some repeatable autofocus inaccuracy and want to spend about $400, this is your lens.
Digital Grin
Both lenses are pretty darned sharp wide open, considering that they are, well, wide open. For center sharpness, the Canon may have a slight edge at f/1.8, but either lens is admirably resolving details by f/2.8. Corner sharpness is a different story, with the 28mm turning in generally superior performance. Both lenses exhibit fairly soft corners wide open (although more than adequate, especially considering these lenses' primary use as available-light shooters).
The-Digital-Picture.com
The Sigma 30mm f/1.4 EX DC HSM Lens is somewhat soft wide open and steadily improves to quite sharp at f/2.8. Corner sharpness trails center sharpness by a stop or two. Bokeh from the 8-blade aperture is nice. Colors are decent. CA (Chromatic Aberration), though not absent, is well controlled.
FocalPlane.net
If you want maximum sharpness or also want to use the lens on a full-frame camera, the Canon may be for you. If, like me, you want all the aperture you can get and won't notice an ever-so-slight loss in sharpness, the Sigma gets the nod.
Photodo.com
The picture quality alone, putting all the acquired knowledge of digital capture from the last few years into a simply constructed lens will pay dividends for those of you who purchase this lens.