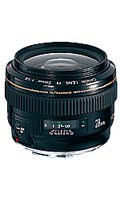 Canon EF 28mm f/1.8 USM Specifications
Frame Coverage
35mm
Lens Construction (groups)
9
Lens Construction (elements)
10
No. of Diaphragm Blades
7
Minimum Aperture
22
Closest Focusing Distance
0.25m (9.8")
Maximum Magnifcation
0.18x
Filter Diameter
58mm
Maximum Diameter x Length
73.6mm x 55.6mm (2.9" x 2.2")
Weight
310g (10.9oz)
Ken Rockwell
The Canon 28mm f/1.8 EF is much nicer than I expected. This is a great little lens for just about anything. It works well and never gets in the way of making a great photograph. Pop it on any Canon camera, head out any time day or night, and you'll be prepared for great photos without flash.
Digital Grin
Both lenses are pretty darned sharp wide open, considering that they are, well, wide open. For center sharpness, the Canon may have a slight edge at f/1.8, but either lens is admirably resolving details by f/2.8. Corner sharpness is a different story, with the 28mm turning in generally superior performance. Both lenses exhibit fairly soft corners wide open (although more than adequate, especially considering these lenses' primary use as available-light shooters).
FocalPlane.net
If you want maximum sharpness or also want to use the lens on a full-frame camera, the Canon may be for you. If, like me, you want all the aperture you can get and won't notice an ever-so-slight loss in sharpness, the Sigma gets the nod.
William Castleman
Astrophotographs demonstrated that the lens gives good performance (minimization of coma and aberrations) if stopped down to f/4.
The-Digital-Picture.com
I generally find that when stopped down to f/2.8 or f/4, the Canon EF 28mm f/1.8 USM Lens is quite sharp. The corners are best after f/5.6.