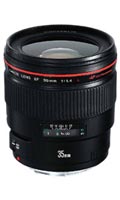 Canon EF 35mm f/1.4 L USM Specifications
Frame Coverage
35mm
Lens Construction (groups)
9
Lens Construction (elements)
11
No. of Diaphragm Blades
8
Minimum Aperture
22
Closest Focusing Distance
0.3m (11.8")
Maximum Magnifcation
0.18x
Filter Diameter
72mm
Maximum Diameter x Length
72mm x 86mm (2.8" x 3.4")
Weight
580g (20.5oz)
PhotoZone.de
The Canon EF 35mm f/1.4 USM L is certainly an impressive piece of engineering but it struggles a bit on full format DSLRs - at least technically. The center resolution is excellent straight from f/1.4 but the borders and extreme corners are soft here. That said it is certainly capable of delivering images with a very shallow depth-of-field and that's the primary point of this lens after all.
William Castleman
The EF 35mm f/1.4 L is an excellent fast lens for wide field astrophotography and performs optimally at f/2.8. It is also a fast focusing lens when used for general photographic purpose. Performance is excellent at f/2 for non-astro photography.
Photodo.com
As you would expect from a prime lens, especially one with Canon's famous L suffix, the optical performance was good. You will see from the chart that a gentle curve is achieved with no wild jumps from one stop to the next, always the sign of a well-produced lens. It also manage to start from a decent wide open performance, showing that it has not been pushed beyond what it is designed for.
The-Digital-Picture.com
The Canon EF 35mm f/1.4 L USM Lens is slightly soft at f/1.4, but useable in my opinion. There is a noticeable improvement by f/2.0 (quite sharp). Some vignetting will be apparent to Full Frame and 1.3x FOVCF DSLR users until stopped down f/2 or so. Any distortion present is very minimal - FOVCF body users should notice none.