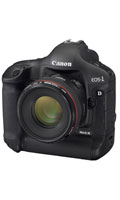 Canon EOS 1D Mark III Specifications
Type
Digital AF/AE SLR
Recording Media
Type I or II CF card, SD card
Image Sensor Size
28.7 x 19.1mm
Lens Mount
Canon EF mount
Compatible Lenses
Canon EF lenses
Max Resolution
3888 x 2592 pixels
Effective Pixels
10.1 million
Dimensions (W x H x D)
156 x 157 x 80mm (6.1 x 6.2 x 3.2")
Weight (incl. battery)
1335g (47.1oz)
OutbackPhoto.com
This camera with 10 MP image size, excellent noise characteristics and 10 f/s gets close to the one size fits all camera. 10 MP pictures with this level of quality per pixel will allow 16x20" prints for all but the ultimate detail fans. Remember that the Canon 1Ds (Mark I) was the camera of choice for many demanding photographers. It had only 1 MP more pixels and showed quite a bit more noise.
The-Digital-Picture.com
The per-pixel image quality delivered by the Canon EOS 1D Mark III is second to no Canon Digital SLR introduced to date. The most obvious improvement is in the high ISO noise department. The high ISO noise from this body is very similar to that from the 1Ds II.
Luminous-Landscape.com
The new Canon 1D MKIII might easily be seen as a refresh to the model line, but this is not so. Though it looks much like any of the previous models it is in fact an almost complete rethink on the part of Canon of what a pro-level digital camera should be like.