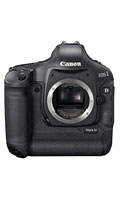 Canon EOS 1D Mark IV Specifications
Type
Digital AF/AE SLR
Recording Media
Type I or II CF card, SD card
Image Sensor Size
27.9 x 18.6mm
Lens Mount
Canon EF mount
Compatible Lenses
Canon EF lenses
Max Resolution
4896 x 3264 pixels
Effective Pixels
16 million
Dimensions (W x H x D)
156 x 156.6 x 80mm (6.2 x 6.2 x 3.1")
Weight (incl. battery)
1180g (41.6oz)
BobAtkins.com
The EOS 1D MkIV is a relatively large and heavy camera. The integrated grip and high capacity battery significantly increase the size of the camera body when compared to an EOS 5D MkII and it's much bigger and heavier than something like a digital Rebel T2i. The 1D MkIV wouldn't fit either my LowePro Off Trail bag or my LowePro Mini-Trekker backpack. At just over 2.5lbs in weight it's also pretty heavy - and that weight doesn't include a lens!
The-Digital-Picture.com
The Canon EOS 1D Mark IV is delivering a higher percentage of in-focus AI-Servo shots than any DSLR I've used to date. No, it is not perfect (I don't know if perfection can be achieved with a human behind the viewfinder), but, at 10fps, it delivers a VERY impressive number of sharp shots from a burst. For example, in the 21-shot sequence shown below in this review, only 2 or 3 shots are even slightly out of focus - and even these are very close.
DPReview.com
In image quality terms, the 1D Mark IV is all a flagship camera should be - it captures incredibly detailed images with great color, whether you choose to shoot RAW or JPEG. It produces better pixel-level quality than its predecessor and offers 26% greater resolution in every file, meaning you can crop to the heart of the action without a care.