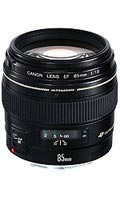 Canon EF 85mm f/1.8 USM Specifications
Frame Coverage
35mm
Lens Construction (groups)
7
Lens Construction (elements)
9
No. of Diaphragm Blades
8
Minimum Aperture
22
Closest Focusing Distance
0.85m (33.5")
Maximum Magnifcation
.13x
Filter Diameter
58mm
Maximum Diameter x Length
75mm x 71.5mm (3" x 2.8")
Weight
425g (15oz)
BobAtkins.com
A fast lens that has to be stopped down to shoot isn't of much value, but the EF 85/1.8 is sharp at f1.8 and can be shot wide open with no fear of soft images. It does get even sharper when stopped down, but stopping down is only needed when you want a greater depth of field.
PhotoZone.de
The Canon EF 85mm f/1.8 USM is a very desirable lens and, surprisingly, a very affordable one. Both contrast and resolution are very good straight from the max. aperture. The lens shows some hefty vignetting at f/1.8 but beyond it's not really a big problem anymore. Neither distortions nor lateral CAs are something to worry about in field conditions.
Ken Rockwell
Don't worry that you're not paying for an "L" designation. This 85mm f/1.8, like the 100mm f/2.8 Macro, can make much sharper images than most of my other L lenses, like my 14mm f/2.8L, because it's so easy to make a good 85mm fixed lens. In this case, Canon has made an extraordinary 85mm lens.
William Castleman
All three of these lenses are well-constructed and light weight. They are all ultra-fast focusing and produce high contrast images. They differ in resolution, 50% MTF (microcontrast), and background blurring (bokeh) produced as outlined below.
William Castleman
I could have given this review the title, "In Praise of the EF 85mm f/1.8 Lens." It does almost everything that the EF 85mm f/1.2 L does faster, cheaper, lighter and smaller. There are a few notable exceptions.
The-Digital-Picture.com
An application where the Canon EF 85mm f/1.8 USM Lens shines is indoor and low light photography. The 85mm focal length and wide aperture make the Canon EF 85mm f/1.8 USM Lens a great church or stage lens.